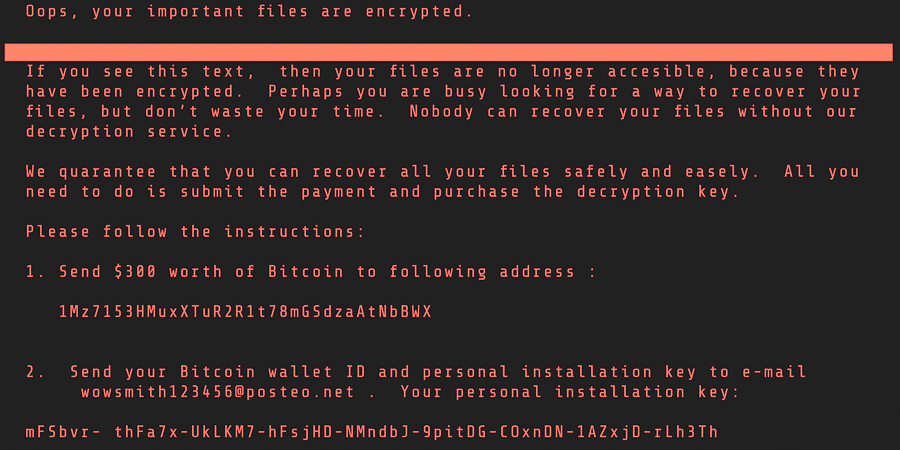 Managed IT Works: Especially Against Ransomware Like Petya
It's been 6 weeks since the last global affecting ransomware attack has occurred. The last attack brought to you by WannaCry affected millions of computers and servers throughout the globe.
That attack affected an ancient exploit going all the way back to Windows XP and was stolen from the national security agency. Hackers use that exploit and penetrated systems worldwide generating tens of millions of dollars in ransom networks.
What did we learn since then? Apparently not a damn thing.
The Petya Ransomware
Lo and behold, earlier this week a new type of ransomware called Petya/Goldeneye infected millions more, but had a completely different vector: it went after the hardware as well. Older computers used a system called BIOS or basic In-N-Out system that has been around from the late 70s. Luckily, as hardware has progressed with the newer Windows additions, encrypted hardware interface technologies such as unified extensible firmware interface or UEFI requires encryption certificates in order to make changes to the system.
None of the affected hacks that have occurred in the last couple months could penetrate the newer firmware… but the older systems were extremely vulnerable.
Why do we say we have learned not a damn thing? Because we haven't.
Update Your Systems or Get Them Managed
In March 2017, Microsoft released a patch for the latest exploit to prevent it. People didn't listen; they didn't patch their system; they didn't think it would happen to them. But it did.
That is why at Triton we extremely recommend that clients go into a managed platform. Why? In our managed platform (among the other benefits), we handle all of the arduous and tenacious patching for all of your network systems. That patching has pretty much insulated our clients from any kind of hack. Are they 100%? No. But the latest round of exploits has taken hold because people have not patched or maintained their systems in a consistent way. Patching here or there doesn't really work because you may miss some, it may not seem important to you, but in an automated patching system, a patch is going to go into your system no matter what. That is what has saved every single person under Triton Technologies management system from getting a bug.
Managed Services with Automated Patching Works
That is why we extremely recommend even the smallest business to outsource their IT technology needs, security management, backups, and everything else that has to do with your network to a managed technology company such as Triton Technologies. Will these hacks and exploits happen again? Most certainly. There is absolutely no end to what hackers and exploiters will do to get money from people who are not serious about data security. Let us help you solve that.